At the end of last year I had a need for a wireless data hotspot, and originally I ended up buying one through my prepaid wireless phone provider, Virgin Mobile.  At the time the hotspot was close to $100, and it came with a $35 monthly data fee for 1GB of data.
While that hotspot worked fine, I was determined to find a better, and cheaper alternative.  In doing research online I found a new wireless data service from FreedomPop.  FreedomPop was a wireless data provider with a twist – their lowest level data plans were free.  Let me say that again.. FREE!
Continues after Advertisement
---
---
After buying their wireless hotspot for about $40, (which is the exact same one I had with Virgin Mobile by the way) I was able to dump my prepaid data plan and have 500MB of free wireless data ever month for free. After connecting with friends through their "Freedom Friends" program to get extra free data, i was able to boost my amount of free wireless data to 1GB every month.
I've been very happy with the service since I signed up.  It has allowed us to cut the cost of data from our wireless bill down to zero, and the coverage here in the Minneapolis area has been great. I've gotten consistent and fast speeds with their 4G device, at times the speeds were faster than our old slow DSL connection before we moved. The only problem I've had in the last year was when we used the device for a couple of weeks as our main internet connection at home before we had our new connection hooked up after moving. We ended up going over our alloted data amount after my son streamed some Amazon Prime TV shows, and the device stopped working until we upgraded our package. Even after upgrading the connection we only ended up spending about $35 that month.
So how does FreedomPop make money and stay open? They're a "freemium" service where they make money when people buy upgraded data packages.  So the base package is free, but if you want 1GB, 2GB or 5GB of wireless data, you have to pay for it. Their rates for those packages are still much lower than most other providers I've checked. I think it is definitely worth it, even if you're a heavy user of data.
FreedomPop Has Announced Free Cell Phone Service!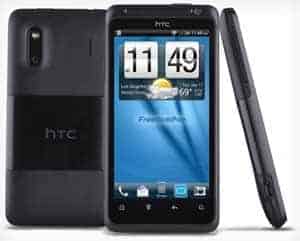 This week FreedomPop made an announcement that has the potential to turn cell phone service as we know it on it's ear.  They announced their new freemium cell phone service, and launched it on October 1st.  They've been hinting at a cell phone service since about June of this year, but the details of the service haven't completely been fleshed out until now.
Like their wireless data packages, the cell phone service will also be a freemium service with their base cell phone package being free, and then upgraded packages being available with more minutes, texts, etc.
The interesting thing about how FreedomPop cell service works is that it will run voice calls through the 3G or 4G wireless data connection, unlike a typical cell phone that runs calls through a voice network.  Apparently this allows them to make cell phone calls much more affordable.
"We're not touching the voice network at all," FreedomPop VP Tony Miller explained. "If we were to go with Sprint's voice network the cost of the deal would be orders of magnitude higher, and the free plan would between $15 and $20." All of that backroom wheeling and dealing remains transparent to the end user though, as they can use the stock Android dialer and messaging apps just as they always could.
So the phone uses the wireless data connection to make phone calls, saving FreedomPop, and you, money in the process.
Available Phones
At launch FreedomPop only has one phone available to purchase, the HTC Evo Design 4G.  From what I can gather the phone is a year or two old at this point, and not top of the line, but it's affordable.  It's an Android smartphone, and details are a bit hazy as to whether it is Android 4.0 or not, but if it isn't, there are rumblings that it will be soon.
The phone costs $99 at launch, with a normal $199 retail price.  FreedomPop also says they'll be offering more handset selection later in the year, and probably some newer phones as well.
UPDATE: FreedomPop has announced that you should be able to bring your own device to the service. The homepage currently has a "Bring Your Own Phone" link where you can activate your own phone. My understanding is that there are a number of Sprint Wi-Max phones that should be supported currently, and other phones will be added moving forward including the iPhone.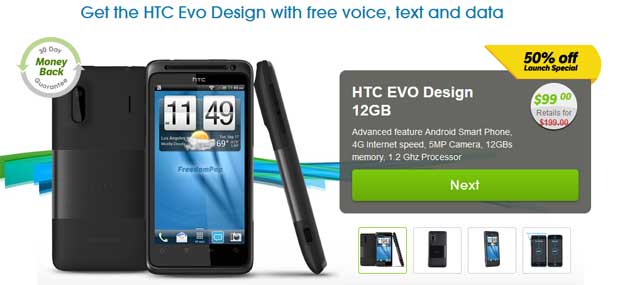 Phone Specs
CPU Speed: MSM 8655 1.2GHz + SQN1210 (WIMAX)
Memory: ROM 4GB eMMC, 8GB SDCard, RAM: 768MB
Camera: SMP color CMOS with auto focus support 5 MP back camera, 1.3 MP forward facing
Connectivity: Bluetooth 3.0 + High Speed, WIFI: IEEE 802.11 b/g/n, 3.5mm stereo audio jack. micro-USB
Battery: 1520 mAh
Phone Plans
So here's where the rubber meets the road. How much are you going to be paying for the service? If you're a low user of cell phone service the answer is likely going to be nothing,  $0.  Free. If you talk a lot of do a lot of texting, you may have to spend a bit more, but still not very much.
Basic 200 – FREE: With the basic plan you get 200 voice minutes, 500 texts and 500MB of 3G/4G data for no monthly cost.
Premium 500 – $7.99/month: This plan gives you 500 voice minutes and unlimited texts, as well as 500MB of 3G/4G data.
Unlimited – $10.99/month: This plan gives you unlimited voice minutes and texts, as well as 500MB of 3G/4G data.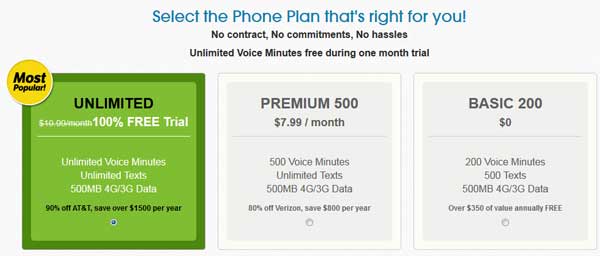 How Good Will The Service Be?
The real question about the FreedomPop cell phone service is, how good will the call quality be?  Will it be as good as a regular cell phone, or will it suffer from some of the glitches that VOIP is sometimes known to have like latency, calls being lost, etc?  I guess time will tell.
For now the FreedomPop phones are running on the Clearwire WiMax 4G network, which is owned by Sprint.  So if you have good WiMax coverage in your area, you'll likely be just fine.  In my area the covereage is pretty good and the wireless hotspots have had no issues.  Eventually FreedomPop says they'll be getting LTE coverage as well, but who knows when that will happen.
I just bought one of the phones this week and am waiting for it to arrive. I'm excited to crack it open – stay tuned for an un-boxing and review soon!
If it works well we may be able to completely get rid of our monthly wireless bills!  From the $100+ we used to pay to zero!
Would you consider using a free cell service like FreedomPop? If not, what holds you back?