CD Rates
Featured Bank: CIT Bank
Our featured bank for CDs is currently CIT Bank. They currently offer some of the best CD rates available, and have a solid 104 year history. Check out our full CIT Bank review here.
If you're currently searching for a place to stash your cash, or are starting a CD ladder, CIT Bank should probably be near the top of your list. They have terms anywhere from 6 months to 5 years.  Click on the banner or the link below to check out their site for more details, and to go through their easy and short signup process!
CIT Bank CDs – Click Here For More Details Or To Apply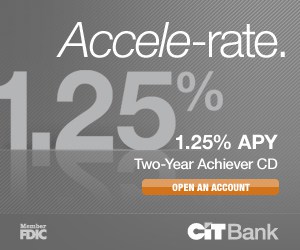 Looking for the best CD rates? Search the automatically updated rates table below.