In recent years, Barclays has been making inroads in the U.S. credit market. Versions of the Barclaycard include the Upromise card (save money for college) and the US Airways Dividend Miles card. Recently, the bank released the Barclaycard Rewards MasterCard.
If you are looking for a solid rewards card choice, and if you want the equivalent of $50 cash back when you make a purchase, the Barclaycard Rewards MasterCard is a decent choice.
Continues after Advertisement
---
---
Double Points on Every Day Purchases
One of the great things about this credit card is that you don't have to worry about rotating categories. Instead, you receive double points on purchases that you make every day. You get two points for each dollar spent in groceries, gas, utilities. All other purchases get you one point for each dollar spent.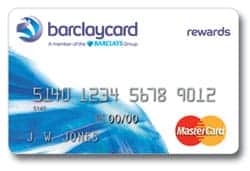 This rewards program makes it a good choice if you want to use your recurring bills to help you rack up the rewards points. Every time you buy gas or groceries, you can use this card. Additionally, you can put your utilities on the credit card. These are monthly expenses that can reward you regularly for spending that's already in your budget.
Just makes sure that you pay off the credit card at the end of each month. You don't want to carry a balance and have interest charges outweigh your rewards. When you integrate this card into your regular budget, you can maximize your rewards.
Points can be redeemed for just about anything. You can use your points for flights, shopping, dining, hotels, and even cash back/statement credit. Your points can be converted to cash to pay for any purchase you have made through a statement credit.
Interest and Fees on the Barclaycard Rewards MasterCard
The interest rate starts at 14.99% for those with excellent credit. You might pay a higher rate of 17.99% or 24.99% if your credit score isn't as high.
There is an introductory rate for balance transfers and purchases. You can pay 0% APR for 15 months. However, it's important to note that you will be charged a balance transfer fee if you decide to go that route. The relatively long intro period, though, can make a balance transfer worth it. With a solid plan, you can have your high-rate balance paid off before the intro period expires.
There is no annual fee with the Barclaycard Rewards MasterCard, so you don't have to worry about that.
Special Offer
You can get $50 cash back for a limited time when you make your first purchase if you are approved for the Barclaycard Rewards MasterCard. Since the card works on a points rewards system, you will actually receive 5,000 bonus points — which is enough for $50 cash back. Once you make your first eligible purchase, you'll see your money.
Bottom Line
The Barclaycard Rewards MasterCard is a solid offering. It's about average in terms of rewards programs, and in terms of a cash bonus. The real advantage to this credit card is the extra rewards you get for making regular budget purchases for grocery, gas, and utilities. Unlike some other cards, where you have to go out of your way to spend extra on things like restaurants and travel in order to get extra rewards, or you have to sign up for quarterly rotating categories, the Barclaycard Rewards MasterCard helps you out by giving you the best rewards every month on things you would buy anyway.
Sign Up For The Barclaycard Rewards MasterCard – $50 Bonus