For the past year or so I've had an online savings account with Ally Bank where we keep the bulk of our 1 year emergency fund savings stashed. We also have some goal based savings accounts at ING Direct where we're saving up for savings goals like vacations, new cars (we pay ourselves a car payment) and a house down payment.
Because I'm a personal finance blogger, however, I'm always trying to keep abreast of what banks are out there, what the best current bank rates are on high yield savings accounts. I'm also looking for what banks tend to have the best customer ratings and online tools.
Continues after Advertisement
---
---
One bank that I hadn't heard of up until a couple of weeks ago was Aurora Bank.  I first discovered the bank through bankrate.com, which had done a brief review of their offerings, as well as listing them in their "Top Tier 100 Highest Yields" list for the first quarter of 2011.  So today I thought I'd do a quick review of Aurora Bank, and what they have to offer.
Aurora Bank History

From Wikipedia:
Aurora Bank is a federal savings bank (FSB) headquartered in Wilmington, Delaware. It is a mid-size bank that offers full-scale banking services. Aurora Bank was founded on January 1, 1921 in Wilmington, Delaware under the name of Delaware Savings And Loan Association. On January 2, 1958, deposits made to the bank were first insured by the Federal Deposit Insurance Corporation (FDIC). In 1988, the bank was renamed to Delaware Savings Bank, FSB. On April 1, 2009, the bank changed its name to Aurora Bank, FSB.

Aurora Bank is regulated by the Office of Thrift Supervision and the Federal Deposit Insurance Corporation.

Aurora Bank has offices in California, Colorado, Indiana, Missouri, Nebraska, New Jersey and New York.
Is Putting My Money With Aurora Bank Safe?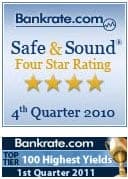 With Aurora Bank your money will be safe as it's insured through the FDIC.   In the unlikely event that Aurora Bank were to go under, your deposits are insured and you'll get your  money back,  as long as you don't have more deposited than the FDIC insurance will cover. Currently that amount is $250,000 per depositor.  I would never even consider a bank unless they were FDIC insured.
Aurora Bank is also listed by BankRate.com as being a 4 out of 5 star Safe & Sound bank, which basically means the bank has been rated as being solid financially.  So you really shouldn't have to worry about them going under.
Aurora Bank Account Types
Aurora Bank has several different account types that you can get, but I'll focus on four of them here – their savings, checking, CD and mortgage accounts.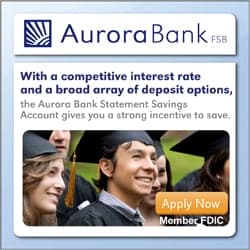 The minimum to open a savings account is $1, which is pretty standard nowadays.  It should be noted, however, that you will have to maintain a minimum balance of $1,000 in order to receive the maximum interest rate which  is currently at 0.89% APY.  That's a little disappointing as it  won't allow starting savers to get in with the higher interest rate right away, but it is far from abnormal. A lot of banks will have a $1000-$1500 minimum (or higher) to obtain the best rate.
There are no monthly fees on the account as long as you keep an average daily balance of $500 or more.  There are the standard bank account fees for overdrafts/etc.  To avoid those you can just link a Aurora Bank Checking or Money Market account to your savings, and avoid any overdrafting in the first place.
Aurora Bank also has a high yield checking account available.   Currently it has a rate of 0.84% on the checking if you maintain an average daily balance of over $1000.  It  also gives you the convenience of online bank, ATM withdrawals from an extensive STAR network, as well as the ability to write checks, make check card purchases, electronic transfers and direct deposits.
Aurora Bank also offers CDs anywhere from 6 months to 5 years.  I wrote about their CDs a bit more in depth on my post about setting up a CD Ladder.   Their rates are going to be anywhere from around 1.03% for the short term up to 2.31% for the 5 year CDs.   As I mentioned on the other post, some of the short term CDs you may want to steer clear of as you can get a better rate in a savings account and still be more liquid. The longer term ones, however, have competitive rates and are worth a look.
Aurora Bank Mortgage has a variety of home loan products available including 15-year fixed, 30-year fixed, ARMs, jumbo products, and FHA loans.   Their rates are competitive, and according to their site you can close with little or no out-of-pocket costs.  In checking their rates, they're currently at about 4.5% for a 30 year fixed mortgage.  That put them as one of the lowest cost lenders on BankRate's list.  I think if you're looking to buy or refinance a home, Aurora should definitely be on your list.
Opening An Account With Aurora Bank
Opening an account is easy and straight forward like most online banks nowadays.  You'll just go to the Aurora Bank site and follow the on-screen instructions to complete the savings account application process.  It shouldn't take more than a few minutes.  Some of the information you'll need to open account include full name, date of birth and social security number. You'll also probably need to setup a linked account to fund your savings, so have that account information handy as well.
After you successfully complete the process, you'll get a welcome kit in the mail with further instructions.  The whole process shouldn't take more than a couple of days.
Open your account with Aurora Bank. Click here for details!
Conclusion
At the time that I wrote this, Aurora Bank is listed in BankRate.com's Top Tier  100 Highest Yields list, because their interest rates are currently among the highest in the country.   All of their accounts are also FDIC insured, and they've received a safe and sound rating from BankRate.com because of their sound financial practices.
If you're looking for a good high yield savings account where you can put your money, I think Aurora Bank should be near the top of your list. To check out the details of their accounts, click on the links below.
Do you have any experience with Aurora Bank? Are you using them, and how do you like them? What are the pros and cons of their accounts? Leave us a note in the comments!